HiFiMan has been making large marks in the audiophile business lately. With an entirely new line of over-ear headphones, the introduction of an on-ear model, and lots of in-ear models. Recently, HiFiMan released their new flagship IEM, one that would be different from the rest in terms of sound signature and fit, one that was customized. This would require them to team up with Unique Melody to design their first custom in-ear monitor (CIEM for short).
About CIEMs
Before I begin, I'll start by giving a quick introduction to what a CIEM is as that may be something that iFans isn't too familiar with. A CIEM is simply an IEM that uses a custom molded casing that is fit to the listener's ear. The casing is typically made out of acrylic, though it can also be silicone or some other material. These have become very popular with performers and musicians. Today, they have been gaining popularity with the general listening crowd.
CIEMs will require users to go out and get an ear impression from an audiologist. These typically run for around 50-150 dollars depending on the audiologist.
Design
Most CIEMs allow users to customize the way they will look when they get it. Though many of these customizations are standard (color options), there are also more expensive options available, like special faceplates, glitter, etc. HiFiMan offers their RE-1000 to have custom faceplate, housing, and ear tip colors. Additionally, they have special faceplate options at extra costs. With that said, you have a total of 30 color options to choose from along with 14 special face plates. Pictured are translucent smoke colored housings with a brushed metal faceplate. The tips are red and blue for the left and right earpieces, respectively. You're free to mix and match colors between each earpiece to create some pretty funky combinations.
Design: ★★★★★
Audio
HiFiMan's full-sized models typically have a relatively flat signature; their IEMs, on the other hand, go all over the place. The RE-300 has a V-shape, the RE-400 is warm over neutral, the RE-600 is warm, smooth, and bassy… The RE-1000 is V-shaped. A powerful, bass-focused signature mixes together with slightly strong treble and a smooth seductive midrange to create a signature that is coherent and musically balanced.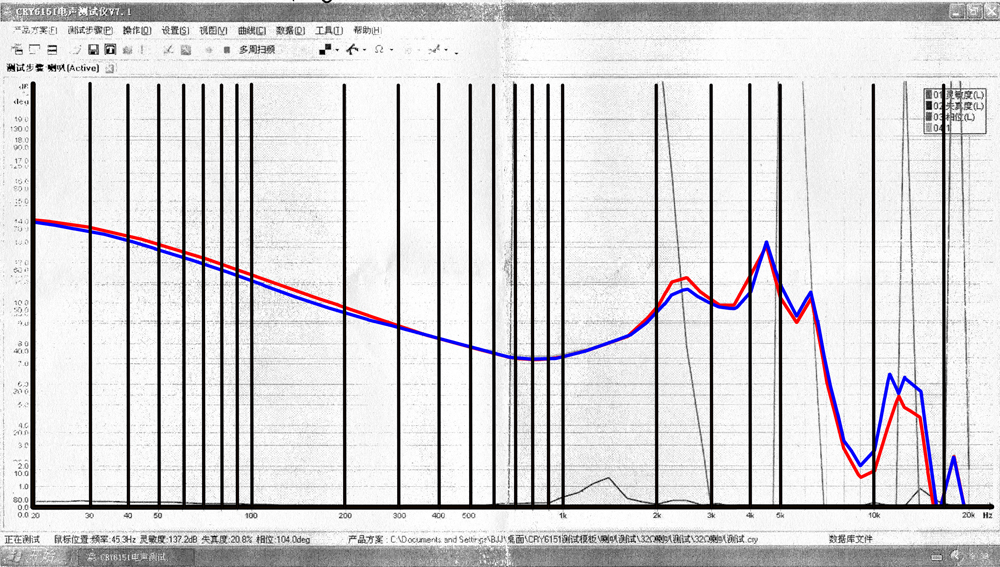 As stated, there is a strong, deep focus on the sub-bass with the RE-100. This creates a well-defined slam for each and every impact with sub-bass texture that has good presence with a solid texturing with a hint of fluidity. The bass is well controlled due to the quick decay. This creates a moderately tight midbass and impacts that hit quick and hard. The presentation still retains quite a bit of accuracy to the original recording. Songs that produce heavy bass will sound heavier, songs that don't use as much bass will do just that. Things are rarely overdone.
There are two things that stick out with the midrange of the RE-1000, the smoothness and the soundstage. We'll start with the latter; the soundstage is large due to the excellent separation among instruments and staging in general. This is definitely artificially done and songs with actual sound stage (like binaurally recorded songs) don't have a larger stage than regular ones. On the other hand, the main bulk of the RE-1000 is offered through a smooth, lush midrange, which is easy on the ears. Despite having this, details and clarity are not lost at all. Vocals are lush and deep with a nice hint of sweetness when it's needed. The only real issue I had with these is that they tended to be too smooth, too easy going, too soft... This leads to a signature that needed additional midrange energy in many songs.
As we go up high, we find out where the energy of the RE-1000 comes from, the upper treble. So, we'll start there. The upper treble offers quite a strong sparkle to it with a slight edge. For very poor recordings, it can get borderline sibilant, but never quite reaching that point; generally, however, it's quite tame. Details and separation are actually rendered quite well. The lower treble has a well-defined punch and hit with a good bit of energy. The result, snares have a very strong snap, but it's not overdone. I should note that there is a specific range (closer to mid-treble than upper treble) that is focused on with the treble. This causes the RE-1000 to sound anywhere from a bassy-IEM to a V-shaped IEM.
Audio: ★★★★★
Build
Accessories seem to vary slightly with a mixture of accessories from both Unique Melody (the manufacturer that does the customization process) and HiFiMan (the manufacturer that designed the IEM). My set came with a cylindrical, metal case along with a soft pouch for on the go. Both of these are sized just right for the IEM and nothing more.
Acrylic is used as the material of choice for the housings of the HiFiMan RE-1000. The hard material feels really smooth in the hand and has a very polished finish to it overall. The build of the housings are quite nice. A recessed, 2-pin socket is embedded in each housing. They use standard 2-pin cables like other UM, Westone, and JHAudio headphones.
The cable provided is very HiFiMan-esque, actually, it looks like the same cable that is used on the RE-400 and RE-600 siblings. The only difference is that memory wire is attached to the ends of the cable. Overall, the cable has good build overall with a fabric lower half and a thinner upper half. Many people have had issues with this cable though, and it does tend to tangle quite a bit. Thankfully, it is removable and replaceable.
The headphone jack does terminate at a 90-degree jack. It's nicely sized and uses a different design to the RE-400 and RE-600 that I received. That said, it's bulkier with a nice long strain relief which is a nice touch. Additionally, it's also is gold plated to avoid corrosion.
Build: ★★★★½
Comfort
These custom IEMs are custom molded to your ear, so theoretically, you should have a perfect fit each and every time. I should note, that CIEMs do take some time to get used to over traditional silicone or foam tips. For starters, the acrylic is hard and doesn't flex. My ear canals do move quite a bit (and my ears as well) when I move in certain ways. Overall though, the fit is very secure, though I also did need to learn how to adjust the memory wire properly. I do have to say, the IEMs do disappear in your ear and you literally do forget about them. They can be comfortable to lay down in as well. Once you're adjusted to them (I'm still adjusting), they are extremely comfortable.
Comfort: ★★★★★
Value
Now we have to tally up the pricing of the headphones. They come in just under 700 dollars which is quite expensive for any pair of headphones. For a pair of CIEMs, they are in the upper, first third of the spectrum. It's typical to find CIEMs at 1-2 grand (even more at times); at the same time, they are also dropping in price (I've seen them as low as 200). That said, you get great quality for your buck. You're given a pair of headphones custom designed to your specific ear and a sound that sounds terrific with lots of refinement. The V-shaped signature is musical and very engaging. Although, I do feel that a better cable could have been included (I would have rather had a traditional CIEM wire). Overall, it has good overall value. It is on the pricy side of things though (and diminishing returns does begin to hit).
Value: ★★★★
Final Thoughts
These were HiFiMan's first steps into the custom market (I guess we both have something in common). With the help of Unique Melody, they were able to design a custom IEM that had a fun, V-shaped signature that engaged the listener; a sound was refined and very well tuned.
Overall Score
★★★★½
HiFiMan RE-1000