About Hifiman
Hifiman is a Chinese brand of audiophile players, headphones and earphones. The brand was founded in 2007 and they released their first product in 2010: the mighty HM-801, allegedly one of the first audiophile players available on the market. Since, Dr. Fang Bian and his team have released a full set of planar headphones, critically acclaimed even by us here at Headfonia.
So today, we are looking at the Hifiman RE800 Silver and RE2000 silver. Yes, Lieven already reviewed them last year in their gold edition but I didn't have the chance to listen to them. Thankfully, they are now here.
The RE Series
Addendum : I'll avoid some IEMs here and focus only on those that truly matter, at least from my point of view.
Hifiman RE-400 / RE-600
Launched in 2013, the Hifiman RE400 and RE-600 were the first IEMs of the brand. They were released conjointly with the HM-901, the awaited upgrade to the HM-901 which looked bulky and outdated in comparison to newcomers. They were dynamic IEMs in an aluminium shell, that alone set them apart from the crowd, quality IEMs (under 100€) were not the norm back then.
Sound wise, the RE-400 and RE-600 had a lot in common, mostly because the drivers were the same, as was the shell. If the RE-600 were harder to drive due to its lower sensibility, once you had them hooked to a good player, their prowess were obvious. Terrific highs, great sound stage, precise vocals, you could only ask for more bass… but that was it !
The catch ? You could have the same sound, same performances and same design (colour aside) for one third of the price if you got the Hifiman RE-400. Moreover, both had a fixed cable so it made the choice easier : 99€ for an easy to drive bang for buck IEM ? Or 299€ for the same IEM, in black ?
Hifiman RE-1000
Produced by Unique Melody and tuned by Hifiman, the RE-1000 are the only CIEM of the brand. Where 99% of CIEMs use balanced armatures or balanced+dynamic drivers to boost the low-end, Hifiman decided to go full dynamic. Not with one full-range driver, no, but with two dynamic drivers (9mm+8.5mm).
Unfortunately I have never tried tried them so I can't give any advice, positively or negatively. Even so, Unique Melody is one of the top brand of CIEMs and Hifiman know how to make great products like the HE-1000, so what could be wrong ?
Hifiman RE-800 / RE-2000 Gold
In 2017, Hifiman released the new RE-800 and RE-2000, their new top tier IEMs. Of course, to make them even more exclusive both IEMs were coated in 24k gold, because every top of the line should have gold on it.
If the Hifiman RE-800 is available for 699€, the RE-2000 costs 2000€ flat. An eye-watering amount putting the RE-2000 in direct confrontation of high-end CIEMs like the TIA from 64Audio. Fortunately, both were a success and even Lieven was pleasantly surprised by this IEM.
Sound wise, both IEM used the Topology diaphragm, a kind of special nano coating applied in various geometric pattern. Once again, Hifiman used a dynamic driver, a 9.2mm, on its IEM. Now on the the Silver versions!
Design & Build Quality
Shell
If the RE-2000's gold was a bit too eccentric for you, or simply too expensive, Hifiman has the solution now. Thankfully for you, they released the new RE-2000 silver. Gone is the electroplated gold, this time you get a silver coated shell that makes the IEM less luxurious but also less expensive. Going from gold to silver, you can save as much as 500€, basically the price of a new DAP so…
Same treatment for the Hifiman RE-800, the catch gold layer has been replaced by a tone-down silver. It's much more visible on this one as the RE-800's gold is flashing from head to toe, even its cable was yellow-ish. The RE-800 silver will blend far more easier with a "standard" gear set, silver-grey housing, black cable and black tips out of the box. Ah, it's also 100€ cheaper.
Build quality is identical to the previous generation, it's light, feel sturdy and I didn't find any flaw or had any issue with them during my testing. The RE-2000 is bulky compared to its sibling, the RE-800 is much more discreet in this regard. Personally I'm more fond of the RE-800 design than the RE-2000 but that's my personal taste.
Another complain I could address to the RE-2000 would be the silver plate, as they are too shy to the eye ! The black part of the IEM, the one with the Hifiman logo, is taking the attention spot and it leaves the silver part in its shadow. The RE-800 is much more coherent with a full silver case and that makes it prettier, in my opinion.
Overall, it's hard to fault Hifiman, as a prime owner of their first headphones (hello Hifiman HE-6) the brand really made big improvements on this side.
Build quality
Let's talk about the elephant in the room : the Hifiman RE-800 Silver doesn't have a removable cable. Yes, this is something inexplicable for me since the RE-800 Gold has it. Sure, the RE-800 silver is 100€ cheaper but if I had the choice, I'd go for the gold version because if I have any issue with the silver's cable, I'd have to replace the whole IEM… And that will cost much more than 100€
The RE-800 cable is only available in a 3.5mm unbalanced jack version. Personally I'd have preferred a 2.5mm TRRS with an adapter in the box. I use most of my DAPs in Balanced mode now, as more and more DAP/DAC offer a real sound improvement with their balanced output.
The cable is a straight, non-braided, silver-coated Copper wire. Out of the box, it took a few hours to get its final form but now it's relatively straight. I still think braided cables are the best available but it's not too bad and especially if you like light cables, you on daily use should not have any issue. Again, treat them kindly, if it fails you will have no other option than to replace the whole IEM.
The Hifiman RE-2000 silver kept the removable cable system, hurrah! It still uses this strange adapter system to connect the 2-pin cable but that allows you to connect any cable you want, so it's a good point. The provided cable is the same as the RE-800 which feel inadequate this time.
As the RE-2000 is supposed to take on high-end IEMs, it should be fitted with high-end cable as well. The standard cable is good, sound wise and it's got a big chuncky Oyaide 3.5mm plug. It lacks in refinement you're supposed to feel on a IEMs of this caliber though.
Inside the box
Hifiman RE-800
a small case to carry your IEM
a full set of tips to fit all your need
a few docs about your new IEM and a nice leaflet
Hifiman RE-2000
a metal case to carry you IEM
a box with the cable and the 2-pin adapters
a box full of tips
a pretty nice leaflet about Hifiman history and product range
Comfort
The Hifiman RE-800 Silver and RE-2000 Silver are complete opposites in this regard. The RE-800's small case and straight cable make it both easy to plug in your ear and make it comfortable to wear. If you ever had a Klipsh X10 then know that this Hifiman IEM is mimicking it on every point. I found the double-flanged tips to be my favorite ones but I'm pretty sure most users will prefer the foam tips.
The cable can transmit a lot of microphonics so beware of what you're going to wear, the non-replaceable cables are known for this, the soldered cable leaving no margin here. Apart for this, there is not much to say : the RE-800 is a really comfy IEM that will suit 99% of the people out there.
The RE-2000 otherwise is a big piece of work, like your usual IEM, but wider. It really feels like Hifiman intended to make an earphone that stands out of the crowd and once fitted, the RE-2000 will be very noticeable. I have large ears so I could fit the IEM but my girlfriend had a hard-time with it, the small nozzle combined with the large body doesn't make it easy to fit.
I didn't have the microphonics issue this time so you can concentrate on your music. All in all, I'm not very fond of the RE-2000's body, comfort wise, if I had to choose on this only, I'd stick with the RE-800.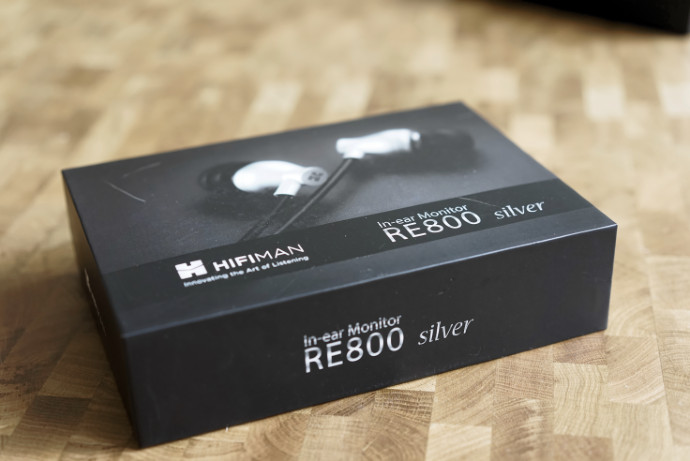 Everyday carry
Once you have he right tips fitted, the Hifiman RE-800 Silver does a great job at blocking outside noise. On some frequencies, I found them even better than my usual CIEM, but that's if you use the right tips.
On a basic everyday use, the Hifiman RE-800 are a bliss to use : with a plug and unplug you don't need to put the cable over your ear and the comfort is top-notch. The lack of a microphone could be an issue for some users who like to make calls with their IEM, but if you use a DAP that will never bother you.
The Hifiman RE-2000 isn't as good in terms of isolation. Maybe because the IEM isn't entering the canal deep enough to provide the best noise-block. On a daily basis, it should suit most needs unless you live/work in a very noisy environment, but in that case you should not wear IEMs but noise blockers directly.
Once fitted, there is not much to complain about, the RE-2000 act like every IEM. Just make sure you use the right tips or you may end up with no bass at all.
Specifications
For the nit-pickers and nerdy ones here, I'm giving the specs and technical sheets. For all the others, you can just go to the next page to see how the IEM performs.
Topology Diaphragm
Each IEM, be it the Hifiman RE-800 and Hifiman RE-2000 use a dynamic driver with a Topology Diaphragm. Simply put, this technology allows Hifiman to greatly reduce the distortions that occur with dynamic drivers by applying a special coating on the diaphragm.
An image is worth a thousand words, so here is the image :
That being said, the dynamic drivers share the same 9.2mm size and both IEMs have the same impedance (60 ohms). Sensitivity is a bit higher on the RE-800 Silver (105dB) compared to the RE-2000 (103dB).
Full specs
Hifiman RE-800
Type : In-Ear Monitor
Transducer : Dynamic Driver
Driver Size : 9.2mm with Topology Diaphragm
Cable : non removable
Type : Silver coated, crystalline copper wire
Plug : 3.5mm jack plug unbalanced
Frequency Response : 5Hz – 20kHz
Impedance : 60 ohms
Sensitivity : 105dB
Weight : 14.5g
MRSP : 599€
Hifiman RE-2000
Type : In-Ear Monitor
Transducer : Dynamic Driver
Driver Size : 9.2mm with Topology Diaphragm
Cable : removable, 2-pin
Type : Silver coated, crystalline copper wire
Plug : 3.5mm jack plug unbalanced
Frequency Response : 5Hz – 20kHz
Impedance : 60 ohms
Sensitivity : 103dB
Weight : 24.05g
MRSP : 1500€